A Remodel Is a Perfect Time To Install Home Automation
Modernize Your House With These Smart Home Ideas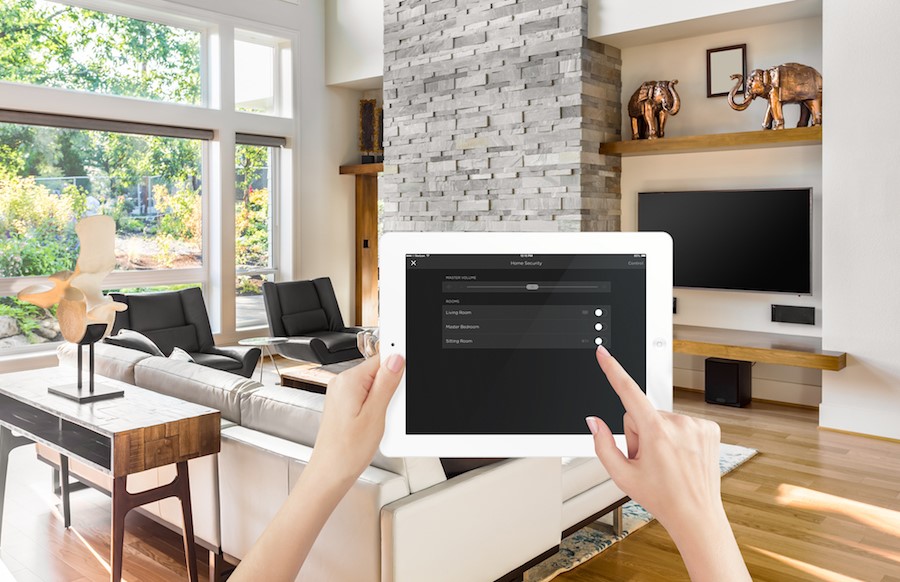 If you're planning on remodeling a house, most likely you have several goals in mind for your new abode. More than likely, you are updating kitchens and baths, as those are the areas that often get the most attention and return the most for your remodeling investment. If it's a full remodel, you may be gutting the interior or even adding on square footage, all of which is a significant project.
Regardless of the size of the project, any time you are moving walls, changing trim, upgrading electrical wiring, or replacing cabinets and plumbing, there is a perfect opportunity to install smart home automation.
Nothing updates a home more than installing current home automation capabilities. According to recent data from the National Association of Home Builders, 7-12% of home remodeling projects go to electronics. Much of this is going to smart home upgrades in lighting, climate control, entertainment, security, and here in Texas, smart shading and pool control as well.
If you are planning a renovation or remodel in the Park Cities, now is the perfect time to integrate a smart home automation system to modernize your property fully.
SEE ALSO: Do All Home Automation Systems Do The Same Things?
Lighting Control
Lighting is a popular item to modernize in a renovation, for both form and function. LED lighting can create opportunities for using different, more customized lighting fixtures and accent lighting that wasn't possible with incandescent or other lighting. Consider LED lighting that can adjust color temperature and to different color hues. Color-adjustable lighting can create a unique mood in a master bath retreat or with landscape lighting.
Smart lighting can also add convenience and flair to your home. Lighting scenes can be customized for entertaining, waking up, bedtime, cooking, and just about any other activity. Modern lighting control systems use wireless keypads or touchscreens that can be located where they are the most convenient to use, combining intelligent control over groups of lights and able to create scenes with other smart functions like entertainment and shading.
Smart Thermostats
A smart thermostat can intelligently control interior climate and be easily managed remotely from inside and outside the home. Adding temperature and humidity sensors to the climate system can increase your home's comfort and energy efficiency. Wireless smart thermostats and remote temperature sensors can precisely control room temperature and prioritize your preferred temperature when you're in a room. Best of all, with wireless technology, your thermostat can be located wherever you want it, and not in some inconvenient location for temperature sensing.
Smart Security Cameras and Entry Monitoring
Security cameras are a convenient way to monitor your home. Consider wiring for a video doorbell like the Savant Entry Service, which combines video and an audio intercom which ties into the home automation system. You will be able to see who rang your doorbell and talk with them, whether inside your home or while away through your smartphone. When designing the remodel, you can plan for discreet locations for indoor and outdoor security cameras, and prepare the right type of wiring required so they're easy to install.
Whole House Entertainment
Do you dream of having audio and video entertainment possibilities in every room – but without equipment and cables everywhere? With a remodel, you have the opportunity to rethink your entertainment areas. Consider installing built-in speakers in principal – or all – rooms in your home, and even outside. Indoors, there are a plethora of models available which can go into walls, ceilings, handle music and movies, and be almost invisible.
You can centralize your audio and video equipment in a closet or cabinet and have one control system to route whatever show or music you want to any room of your home. If you want to hide your flat panel TVs or screens in some places when not in use, a variety of motorized options exist to house them in cabinets or behind artwork. When planned with the remodel, your entertainment can be seamlessly integrated with every room - or outdoors – while maintaining your new design aesthetic.
The Smart Kitchen Hub
Smart appliances are invading the kitchen. Screens and cameras are being added to appliances like range hoods and refrigerators. Increasingly, homeowners view the kitchen as the central hub for the home – for meals, family time, overseeing homework, planning the day, special projects, entertaining, and more. Allow for the kitchen to have the right equipment for home control.

If you want a smart speaker for voice control and other uses, you can consider a device that integrates with a smart appliance or thermostat, or wall mounting one in a discreet location. It may mean a wall mounted iPad for control with a Savant home automation system. You may allow a convenient spot for a dedicated touch screen controller on a kitchen island. You might rethink the layout of major appliance locations to take advantage of the smart features of new models. You can also consider taking advantage of new LED lighting designs which are customized for different activities in the kitchen, all controlled by the home automation system.

Plan for home automation early in the process. We'd love to show you all the possibilities for your renovated space in the Park Cities. Contact us; we look forward to working with you!

No video selected.